Digby and Annapolis County Attractions & Activities
Are you looking to fill your vacation with a variety of Nova Scotia activities and attractions? If so, there's enough to do and see around the Harbourview Inn to keep you busy for days on end. There are plenty of things to do and places to see in Digby County and Annapolis County, Nova Scotia.
Dive into our brand new 25 meter long swimming pool or play shuffleboard. Experience the thrill of whale watching off nearby Digby Neck, hike the trails along our rugged shoreline, or explore the majesty of the wilderness at Kejimkujik National Park. Visit the many historic attractions at Canada's oldest European settlement at Annapolis Royal. Stroll through our many picturesque fishing villages. Watch artisans creating their distinctive crafts. Many of these Nova Scotia attractions are only a short drive from the Harbourview Inn.
Maybe you prefer quiet solitude. If so, you will find the Harbourview Inn the perfect place. Enjoy the serenity of bird watching, quiet strolls along the beach, or relaxing by the pool.
If you are interested in genealogy, there are some excellent museums in the area that may be able to help you with your research. A wide variety of eating experiences are available and offer everything from fresh lobster and Digby scallops from relaxed dining restaurants to white linen table service.
Whale Watching On the Bay of Fundy
The Bay of Fundy is one of the best areas in the World to go whale watching. The Bay provides a rich feeding ground for the whales and as a result, an amazing number of whales and an amazing variety of different species of whales spend their summer in the Bay. The crews of the whale watching tours are very knowledgeable about the different types of whales, dolphins, seals and seabirds that are part of the vast marine ecosystem that surrounds Digby Neck. Great fun!
Two options are available for whale watch tours, one is on a standard tour boat operated by Bier Island Whale and Seabird Cruises and the other is on a large rigid-hull "Zodiac", operated by Ocean Explorations Whale Adventures. The tour boat offers a more traditional sightseeing boat cruise, whereas the "Zodiac" offers a slightly more adventurous whale watching experience (Please note that passengers aboard the "Zodiac" must be at least 5 years of age).
www.brierislandwhalewatch.com/
http://www.oceanexplorations.ca/
Candlelight Graveyard Tour at Historic Fort Anne
A great place to see in Nova Scotia is Fort Anne which is located in Annapolis Royal, about 20 minutes frim Harbourview. The first fort was built on this site about 1629 and the French erected four different forts beginning in 1643...each an improvement on the previous one. The earthen fortifications are still in place as well as the 1797 British field officers' quarters. An early 18th century gunpowder magazine is very well preserved. The whole site provides a very relaxing atmosphere for a walk. A candlelight tour of the graveyard alongside the fortress provides a wealth of information about the individuals buried there over the years as well as information about the different burial practices of the period.
www.pc.gc.ca/eng/lhn-nhs/ns/fortanne/index.aspx
The Port Royal Habitation
"The Habitation was constructed by Samuel de Champlain, with his colleague Pierre Du Gua de Monts and a small group of fellow adventurers during the summer of 1605; it consisted of several buildings grouped, French-fashion, in a four-sided arrangement around a central courtyard. Although this new community did not last long, it was the earliest European settlement of any permanence in North America, north of Florida, and it introduced a way of life that was both innovative and unique for its time and place".
This is a great place for children and adults to learn a bit of history presented in an interresting and educational setting.
Harbourview Inn is located about 30 minutes from the French Acadian Shore located alongside St. Mary's Bay. There are several really beautiful churches located in this area as well as some interesting natural sties inclucing Smugglers Cove and Mavilette Beach.
The church (above, top) is the largest wooden church in North America and is located at L'Universite de St. Ann in Church Point.
Bird Watching in Digby and Annapolis Counties
A great variety of birds thrive in different habitats in this region of Canada. Because of the extensive shorelines and because of the abundance of both salt and freshwater bodies in the area, there is a chance to see these different types of birds. There are also a number of Whale Watching and Seabird Cruises that take you to the Bay of Fundy and provide you with a chance to see some of the birds that spend most of their lives far from land.
There are a great variety of locations to bird watch in this area...along the shoreline in Smith's Cove, on Digby Neck and in the more inland areas around Bear River.
An Afternoon of Exploring the Clam Beds
Clams grow in the tidal sandbars off the beach in front of the Harbourview Inn. There is a tour organized by Fundy Adventures that provides information about the lifecycle of clams and provides a hands-on experience of digging clams. This is a great learning experience for the whole family!
www.youtube.com/watch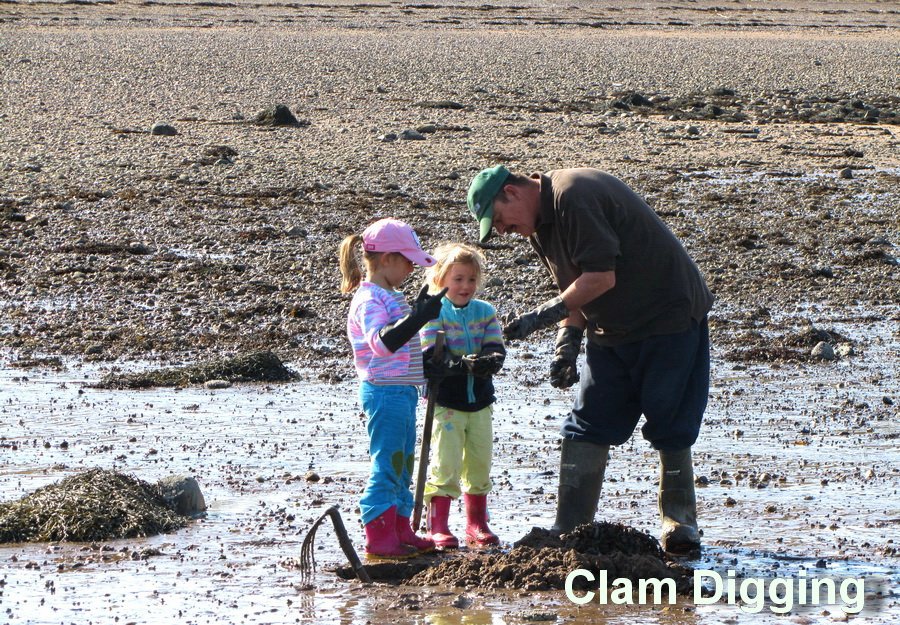 Our Swimming Pool & Tennis Court
Enjoy an afternoon just relaxing by our 75 feet long pool. There is a water slide, diving board and shallow pool for young children.
Our Beach is a tidal beach on the edge of the Annapolis Basin. Bear Island is located just off the coast. At high tide it is an island and at low tide, you can walk to the Island on sand bars. However, the tides come in very quickly and timing of this walk is very important!
Mavillette Beach Provincial Park has a beautiful sandy beach and when the tide is out, there are lots of sand bars where the children (and you) can run and play. When the wind is up, Bay St. Marie is also a perfect place to go wind surfing!
There is another beautiful and often deserted beach at Sandy Cove on Digby Neck...a great place for a romantic walk!
For those who would like to explore some of the many rivers, bays and lakes in this area, this is a great way to do it. There area two locations that you can arrange to rent canoes and kayaks. One is at Kejimujik National Park and the other is in the near-by village of Weymouth. Good exercise and great fun!
The Annapolis Royal Flower Gardens
"A Top 5 North American Garden Worth Travelling For!"
"ESCAPE from the hectic pace of everyday life with a visit to Annapolis Royal's beautiful Historic Gardens!
In a beautiful setting overlooking a tidal river valley, the Historic Gardens is a premiere Nova Scotia attraction showcasing gardening methods, designs and materials representing more than four hundred years of local history.
Some highlights:
Our Rose Collection boasts hundreds of rose cultivars and thousands of fragrant and colourful blossoms.
Our Innovative Garden showcases methods and plant materials suitable for today's urban garden.
Our reconstructed Acadian House is based on the pre-deportation 1671 time period, designed using evidence from local archaeological excavations." *
www.historicgardens.com/
*Text from the Annapolis Flower Garden web site.
Exploring the Natural World
Seascapes
This tour will take you to the edge of the Bay of Fundy to observe the effects of a nine meter tidal range providing an exciting view into one of the world's most dynamic and diverse ecosystems.
- explore tide pools with amazing diversity
- collect and observe plankton from the waters of the Bay. See what attracts the great whales to the our area.
- see predator-prey relationships, life and death battles live in action
- observe barnacles in a feeding frenzy
- zoom in on the zones with a field microscope
- sample some succulent seaweeds
- search for the elusive sea anemone and beautiful sea slugs
www.gaeltours.ca
Hiking, Jogging and Walking
There are two hiking trails close to the Winchester House...one leads by the Cottage Colony on Harbourview Road and the other leads to the Bear River Lighthouse on the old railway line of the Dominion Atlantic Railway.
http://www.hikenovascotia.ca/
The Flight of Fancy Art Gallery in Bear River (10 minutes away)
The Flight of Fancy in Bear River is a
must-see
in our area. We feel very fortunate to have such a wonderful shop to recommend that our guests see. Rob Buckland-Nicks has a real eye for choosing beautiful and interesting works of art, top quality artistic creations and a whole varitey of different and unique articles for his shop. His own paintings are really amazing... He specializes in painting on interesting rocks that he has collected. My personal favourite is a very intricate and detailed painting of an eagle soaring that he painted on a beautiful piece of stone with an interesting pattern...when you look beyond the painting of the eagle, you can see cliffs in the pattern of the rock. He has taken something natural and given you a completely new perspective!
Rob creates a very warm and relaxed atmosphere with an invitation to enjoy all that you see without any pressure to buy. It is little wonder that the Flight of Fancy won the Atlantic Canada Craft Awards for Excellence. It is "renowned for high standards and attention to detail". The Flight of Fancy is located ten minutes form the Harbourview Inn in the community of Bear River.
www.theflight.ca
bearriver.ca/2011/02/08/the-flight-of-fancy-wins-atlantic-canada-outstanding-retailer-award/
Forgotten Memories Antiques (15 minutes from the Inn)
Forgotten Memories has an amazing collection of antique items for sale. The items are very carefully displayed and offer the collector an opportunity to find interesting and beautiful jewellery, glassware/chrystal, photographs and a whole variety of things from the past.
www.facebook.com/pages/Forgotten-Memories-Antiques-Collectables/192731627487651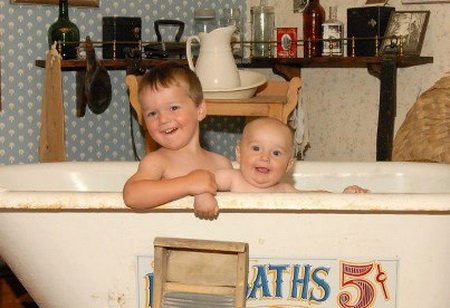 Moose River Rug Hooking Studio (10 minutes from the Inn)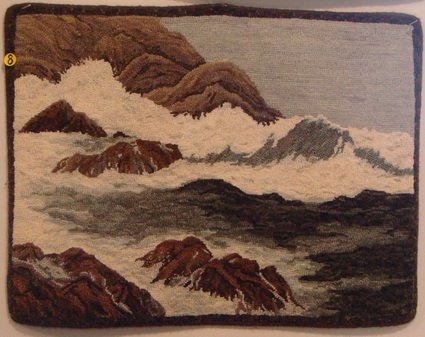 The Moose River Rug Hooking Studio is the perfect place to find all that you would need to hook a rug...from classes to teach you how to do this to all the supplies. They also have for sale rugs that have been created by local artisans...a wonderful quality souvenir.
"When I walked in the door of this studio I choked up. It is beautiful – the mats on the walls, the colours of the dyed swatches, the light – and most of all, the faces of the owners. Open, warm, welcoming faces that say, 'We're so glad you're here.' I felt I'd come home."
Janet Barkhouse
www.mooseriverstudio.com/
Digby Wharf Rat Motorcycle Rally
For the past ten years on Labour Day, Digby has hosted the largest motorcycle rally in Eastern Canada. This year, 2013, there were over 25,000 motorcyles and double that number of people. Lots of activities are planned to entertain the people who come and the rally starts on Friday and goes until Sunday.